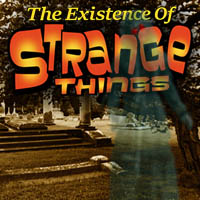 On the episode of The Existence of Strange Things Sean and Butch sit down with D.B. Stearns. D.B. discusses the harmonics of the pyramids and the old civilizations of the world.
 D.B. is a retired US Air Force Veteran who after a successful career in the IT industry became a "Happy Nester" and now am a full time Sci Fi writer and independent researcher.  I find archeology fascinating and am open to the possibilities that maybe this society is NOT the most advanced society that has lived on this planet.
D.B. can be found at his website, Facebook and his book from Amazon.
Join us every Friday night at 11pm ET for a new show of The Existence of Strange Things on www.Radio-Memphis.com/Listen also available on chat at the time of the show.
We can be found on Facebook page, our Facebook Group page, Twitter, and email.
www.thexistenceofstrangethings.com
www.Livestream.com/RadioMemphis
Also, available on the FREE app TuneIn search Radio Memphis.
Sean "ForkChop" Forker can be found on Facebook, his Bigfoot Project Facebook page, his Bigfoot website, ForkChop website and Twitter.
Butch Witkowski can be found on Facebook, UFORCOP Facebook page, J.A.A.R. Facebook page, UFORCOP Facebook Group page and UFORCOP website.
Strange and Beyond News Staff
Vance A. Nesbitt can be found Facebook page, Caravan of Lore Facebook page, Caravan of Lore Facebook Group page, website, YouTube, podcast, and Twitter.
Here is the links to the news stories that Vance reported on.  
 1: Fukushima Waste Dumping
2:  Lava Inching Toward Hawaiian Geothermal Power Plant
3: Half Human Half Chicken Embryos
4: Largest Pterosaur Jawbone Discovered
5: Hammerhead Worm Invades France
6:  Florida Flesh Eating Disease Warning
7:  Malawi Vampire Attack 
8:  Bed Bug Lawsuit
9:Bed Bug Summit
10: Fun Fact
DISCLAIMER:
The views, opinions and topics of discussion expressed by hosts and/or guests in this episode of The Existence of Strange Things do not necessary represent the offical policy or position of Pirate Radio Studios Inc., Radio Memphis, The Existence of Strange Things, it's host, sponors, producers or anyone associated with this broadcast or podcast. Rebroadcast/podcast or any other use of this program without the expressed written consent of Pirate Radio Studios Inc., is strictly prohibited.
Any sponor offers/sales or announcements may not be valid depending on when this show is consumed.
Listener discretion is advised.
This show originally aired on June 1, 2018 at 11pm ET.