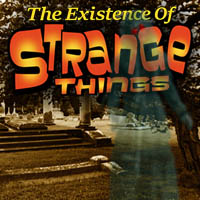 On this episode of The Existence of Strange Things we sit down with Denver Michaels and Andy Matzke. Denver has been a guest on the show before. He sits down and talks about the projects he is working on. Denver has written 3 books and does alot of hands of research and investigating. 
Many of you do not know Andy Matzke by his name. But Andy is a young man who has been growing in the Cryptozoology field. Andy does several podcasts and is involved with some of the production work with Small Town Monsters.
Denver Michaels is an author with a passion for cryptozoology, the
paranormal, lost civilizations, and all things unexplained. At age 42, the
Virginia native released his first book People are Seeing Something—a
culmination of many years of research on the lake monster
phenomenon. Since then, he has gone on to write Water Monsters
South of the Border and Wild & Wonderful (and Paranormal)
West Virginia.
Michaels is employed as an engineering technologist and works
full-time. He is married with three children. In his spare time, Michaels
enjoys the outdoors and traveling and he continues to perform research
and writing for future works.
Denver's website, Amazon, and Facebook
Andy podcast SasWhat and MonsterLand Ohio
Join us every Friday night at 11pm ET for a new show of The Existence of Strange Things on www.Radio-Memphis.com/Listen also available on chat at the time of the show.
We can be found on Facebook page, our Facebook Group page, Twitter, and email.
www.thexistenceofstrangethings.com
www.Livestream.com/RadioMemphis
Also, available on the FREE app TuneIn search Radio Memphis.
DISCLAIMER:
The views, opinions and topics of discussion expressed by hosts and/or guests in this episode of The Existence of Strange Things do not necessary represent the offical policy or position of Pirate Radio Studios Inc., Radio Memphis, The Existence of Strange Things, it's host, sponors, producers or anyone associated with this broadcast or podcast. Rebroadcast/podcast or any other use of this program without the expressed written consent of Pirate Radio Studios Inc., is strictly prohibited.
Any sponor offers/sales or announcements may not be valid depending on when this show is consumed.
Listener discretion is advised.
This show originally aired on November 10, 2017 at 11pm ET on Radio Memphis.