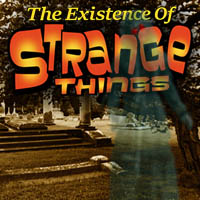 ON this episode of The Existence of Strange Things we sit down with Al Ridenour and discuss his book entitled "The Krampus and the Old, Dark Christmas: roots and Rebirth of the Folkloric Devil". 
Al Ridenour has written for Los Angeles Times, LA Weekly, Fortean Times, Maxim, Stuff, Saveur, and other periodicals as well as the websites Boing Boing, Laughing Squid, Atlas Obscura, and Morbid Anatomy.
He is author of Offbeat Food, Adventures in an Omnivorous World (Santa Monica Press, 2000) an exhaustive survey of culinary oddities and culture. Publishers Weekly described the book "a rollicking and at times mind-boggling crash course on exotic (read: weird) foods." Associated Press noted, "Behind the weirdness, is some truly interesting research about the ways and whys of what we eat."
Ridenour also contributed chapters on underground cultural activities to Tales of the San Francisco Cacophony Society (Last Gasp, 2013) and The Underground Guide to Los Angeles, 3rd Edition (Manic D Press, 1999)
In 2013, as co-founded Krampus Los Angeles, he helped gathered a troupe of Krampus performers, crafted suits and went on to organize an ongoing series of parades and themed shows known as LA Krampusfest. In 2014, Ridenour's group hosted the first Europeans visitors to appear stateside in traditional costumes, and in 2015 they hosted an entire 15-person troupe from the state of Salzburg. Ridenour also directs an annual production of a 19th-century Austrian Krampus play from a script of his own translation, lectures on the Krampus at the international Goethe-Institut, has exhibited his handcrafted suits at the University of Southern California's Doheny Museum, and provides Krampus suit rental for film and television and events.
From 1991-1999, he served as "Grand Instigator" of the Los Angeles lodge of the Cacophony Society, a national network of art- provocateurs and urban explorers responsible for founding the Burning Man festival and serving as prototype for "Project Mayhem" in Chuck Palahniuk's Fight Club. Ridenour was lead designer for a 2012 retrospective on the Cacophony Society at Grand Central Art Center, in Santa Ana, California, and contributed materials to the 2014 exhibition "Böse Clowns – Evil Clowns" at Dortmunder U – Zentrum für Kunst und Kreativität, in Dortmund, Germany. He is also featured in the 2012 documentary Into the Zone, the Story of the Cacophony Society.
From 2004-2008, Ridenour directed The Art of Bleeding Los Angeles-based multi-media performance troupe providing darkly comic faux-educational programs in first-aid and safety. Often staging shows from the group's ambulance, The Art of Bleeding's "paramedical funhouse" combined short original films and animation, repurposed vintage health and safety films, puppets, costumed kiddy show characters, and nurses in fetishistic uniform. The Art of Bleeding was also created various walk-through installations including "Pre-natal Emergency" with adult-sized fetuses, a "Ghost Clinic" installed in LA's abandoned Loma Vista hospital, and a parking-lot display of smoldering freshly-wrecked cars peopled with bloodied actors at LA's Steve Allen Theater.
Ridenour is interviewed at length in the books This Is Burning Man: The Rise of a New American Underground (BenBella Books, 2006), Pranks 2 (Re-search, 2007), and Halloween Nation. Behind the Scenes of America's Fright Night (Pelican, 2011).
From 1990-1999 years Ridenour worked as a digital animator at Metrolight Studios and contributed work on Academy-award winning effects sequences for Total Recall (1990). He combined live action and animation in his music video for Margaret Cho's Hey Big Dog and his Gory Details series and other productions for The Art of Bleeding, including All Things Nice, starring Kim Fowley.
He has also served as research consultant for Syfy TV and the Travel Channel, and worked odd jobs as a graphic artist, prop-maker, psychiatric aid, and church sexton.
Ridenour worked on a Masters of Fine Arts degree in animation at The University of California in Los Angeles, studied German literature and philosophy as a Fulbright Travel Fellow at the Freie Universität Berlin, and received a BA with Honors in German literature as well as a BA with Honors in English at Indiana University, Bloomington, Indiana.
He has traveled in 21 countries and now lives in Pasadena, California with art school manager/teacher Lauren Church, sharing custody of two Chihuahuas with his former wife of 10 years comedian and actress Margaret Cho.
Al's book is available on Amazon. There is a Facebook page.
Join us every Friday night at 11pm ET for a new show of The Existence of Strange Things on www.Radio-Memphis.com/Listen also available on chat at the time of the show.
We can be found on Facebook page, our Facebook Group page, Twitter, and email.
www.thexistenceofstrangethings.com
www.Livestream.com/RadioMemphis
Also, available on the FREE app TuneIn search Radio Memphis.
DISCLAIMER:
The views, opinions and topics of discussion expressed by hosts and/or guests in this episode of The Existence of Strange Things do not necessary represent the offical policy or position of Pirate Radio Studios Inc., Radio Memphis, The Existence of Strange Things, it's host, sponors, producers or anyone associated with this broadcast or podcast. Rebroadcast/podcast or any other use of this program without the expressed written consent of Pirate Radio Studios Inc., is strictly prohibited.
Any sponor offers/sales or announcements may not be valid depending on when this show is consumed.
Listener discretion is advised.
This show originally aired on December 1, 2017 at 11pm ET on Radio Memphis.