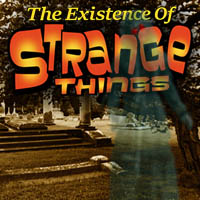 On this episode of The Existence of Strange Things we sit down with Joe Rupe and Dr. Knowledge ( Charles Reichblum ).
 First we speak to Joe Rupe of Lighting the Void. Joe will speak about occult and paranormal activiity he has experienced. joe can be found on Facebook, Facebook, YouTube and Twitter.
Then we speak with Dr. Knowledge. 
Radio talk show hosts gave Charles Reichblum the nickname "Dr. Knowledge" — an appropriate name for a man who has amassed one of the world's largest collections of interesting facts and stories over more than 50 years as a journalist. Charles now presents the best of his formidable collection in this book of all-time fascinating facts.
The All-Time Book of Fascinating Facts is packed with information that will surprise and challenge — information that entertains, educates, enlightens, and is fun to read. With over 500 interesting stories in easy to access question and answer format, readers can quiz themselves or quiz others, and never be at a loss for an intriguing fact or memorable story.
For the past seven years, Charles has been broadcasting the daily "Dr. Knowledge Feature" nationwide on the CBS radio network and for 10 years he also hosted the "Dr. Knowledge Show" on station KDKA in his hometown of Pittsburgh. He has written 11 Knowledge in a Nutshell®and Dr. Knowledge Presents books, and he won the Freedoms Foundation Award for his book Greatest Events in American History.
Dr. Knowledge website, Amazon and Facebook
Join us every Friday night at 11pm ET for a new show of The Existence of Strange Things on www.Radio-Memphis.com/Listen also available on chat at the time of the show.
We can be found on Facebook page, our Facebook Group page, Twitter, and email.
www.thexistenceofstrangethings.com
www.Livestream.com/RadioMemphis
Also, available on the FREE app TuneIn search Radio Memphis.
Sean "ForkChop" Forker can be found on Facebook, his Bigfoot Project Facebook page, his Bigfoot website, ForkChop website and Twitter.
Lon Strickler can be found on Facebook, Phantom and Monsters Facebook page, Phantom and Monsters Group page, Amazon, Phantom and Monsters website, Twitter and YouTube.
Butch Witkowski can be found on Facebook, UFORCOP Facebook page, J.A.A.R. Facebook page, UFORCOP Facebook Group page and UFORCOP website.
Strange and Beyond News Staff
Vance A. Nesbitt can be found Facebook page, Caravan of Lore Facebook page, Caravan of Lore Facebook Group page, website, YouTube, podcast, and Twitter.
DISCLAIMER:
The views, opinions and topics of discussion expressed by hosts and/or guests in this episode of The Existence of Strange Things do not necessary represent the offical policy or position of Pirate Radio Studios Inc., Radio Memphis, The Existence of Strange Things, it's host, sponors, producers or anyone associated with this broadcast or podcast. Rebroadcast/podcast or any other use of this program without the expressed written consent of Pirate Radio Studios Inc., is strictly prohibited.
Any sponor offers/sales or announcements may not be valid depending on when this show is consumed.
Listener discretion is advised.
This show originally aired on April 13, 2018 at 11pm ET on Radio Memphis.