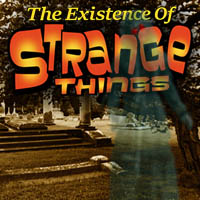 On this episode of The Existence of Strange Things Sean, Lon and Butch sit down with Seth Breedlove and Katy Elizabeth.
First, we speak with Seth Breedlove. Seth is the mastermind behind Small Town Monsters. 
Next we speak with Katy Elizabeth. Katy Elizabeth was born in Warwick Rhode Island .Katy is a worlds leading authority on the Lake Champlain Monster. Katy has been studying the existence of Champ since a child She made her life long dream into reality when she had her own sighting and experiences of this elusive creature on Lake Champlain . It prompted her to start her own group called "Champ Search". The groups goal is to study, investigate , prove the existence and most importantly protect the unique animals that inhabit New York and Vermont's beautiful Lake Champlain.
Katy currently resides on the shores of Lake Champlain in Ferrisburgh VT. currently, she is the only full-time Dedicated Woman Lake Monster Hunter in the world. She has been featured on the History Channel's "In Search of Aliens" with Giorgio Tsoukalos, WGRZ News, WCAX News, numerous radio programs and websites from all over the world. She is author of the new book "Water Horse Of Lake Champlain II available on amazon.com.
KAty Elizabeth has a website, YouTube, Facebook and Amazon
Join us every Friday night at 11pm ET for a new show of The Existence of Strange Things on www.Radio-Memphis.com/Listen also available on chat at the time of the show.
We can be found on Facebook page, our Facebook Group page, Twitter, and email.
www.thexistenceofstrangethings.com
www.Livestream.com/RadioMemphis
Also, available on the FREE app TuneIn search Radio Memphis.
Sean "ForkChop" Forker can be found on Facebook, his Bigfoot Project Facebook page, his Bigfoot website, ForkChop website and Twitter.
Lon Strickler can be found on Facebook, Phantom and Monsters Facebook page, Phantom and Monsters Group page, Amazon, Phantom and Monsters website, Twitter and YouTube.
Butch Witkowski can be found on Facebook, UFORCOP Facebook page, J.A.A.R. Facebook page, UFORCOP Facebook Group page and UFORCOP website.
Strange and Beyond News Staff
Vance A. Nesbitt can be found Facebook page, Caravan of Lore Facebook page, Caravan of Lore Facebook Group page, website, YouTube, podcast, and Twitter.
DISCLAIMER:
The views, opinions and topics of discussion expressed by hosts and/or guests in this episode of The Existence of Strange Things do not necessary represent the offical policy or position of Pirate Radio Studios Inc., Radio Memphis, The Existence of Strange Things, it's host, sponors, producers or anyone associated with this broadcast or podcast. Rebroadcast/podcast or any other use of this program without the expressed written consent of Pirate Radio Studios Inc., is strictly prohibited.
Any sponor offers/sales or announcements may not be valid depending on when this show is consumed.
Listener discretion is advised.
This show originally aired on April 20, 2018 at 11pm ET on Radio Memphis.