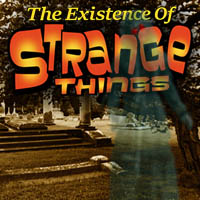 On this episode of The Existence of Strange Things Sean, Lon and Butch sit down with Jonathon Downes.
Jon is the Director at the Centre for Fortean Zoology. He will be discussing some of the expeditions that his centre will be doing in the next year or so. Jon also talks about some of the myths of the world. Everything from that black cat that was stalking Lady Di to Texas Blue dogs.
Jon's wiki page:
Jonathan Downes (born Portsmouth, England, in 1959) is a naturalist, cryptozoologist, author, editor, film-maker, poet, novelist, activist, journalist, composer and singer-songwriter, with a background in radical politics and mental health care. He is Director of the Centre for Fortean Zoology. His father, the explorer and Colonial Service Officer J. T. Downes (1925–2006), wrote several books on a wide range of subjects, such as African history, theology and the Devonshire dialect. His mother Mary Downes (née Rawlins) (1922–2002) was a broadcaster and author who published several collections of Nigerian folklore under the pen-name `Yar Kunama`.[1][2][3][4][5]
He is currently (since 1994) the editor of Animals & Men; the journal of the Centre for Fortean Zoology, and since 2012 has been the editor of Gonzo Weekly, a digital music magazine, between 2007-10 was the editor of The Amateur Naturalist (formerly `Exotic Pets`) - a magazine published by CFZ Press, the editor of the online magazine blog `Cryptozoology:Online`, and from January 2003 until August 2007 was the Deputy Editor of Tropical World magazine, a tropical fish magazine published in the UK. From 2012-3 he was the editor of UFO Matrix magazine, published by 11th Dimension Publishing. He has also edited and contributed to several other publications over the years [2][6][7][8]
According to his autobiography and other writings, as a child he lived in Nigeria, and then Hong Kong (then a British Crown Colony), and returned to the UK in 1971, when his father was 'invalided out' of the Hong Kong government. He was educated at Bideford Grammar School, (1971-6) and later West Buckland School (1976-7) from which he was expelled. He worked as a nurse for the mentally handicapped between 1981–90 and between 1990 and 1994 ran the fan club for Steve Harley and Cockney Rebel.[6][9][10]
Since 2012 he has been editor of the Gonzo Daily blog, and the Gonzo Weekly e-zine, both in conjunction with Gonzo Multimedia (formerly Voiceprint Records).
He is active in community work, and for some years was part of the team organising the monthly children's service in the village church at Woolfardisworthy, North Devon. Having suffered from manic-depression for years, Downes is an activist for mental health issues. On 21 July 2007 he married his second wife Corinna Newton Downes.
Jon's website:
Jon's Facebook
Join us every Friday night at 11pm ET for a new show of The Existence of Strange Things on www.Radio-Memphis.com/Listen also available on chat at the time of the show.
We can be found on Facebook page, our Facebook Group page, Twitter, and email.
www.thexistenceofstrangethings.com
www.Livestream.com/RadioMemphis
Also, available on the FREE app TuneIn search Radio Memphis.
Sean "ForkChop" Forker can be found on Facebook, his Bigfoot Project Facebook page, his Bigfoot website, ForkChop website and Twitter.
Lon Strickler can be found on Facebook, Phantom and Monsters Facebook page, Phantom and Monsters Group page, Amazon, Phantom and Monsters website, Twitter and YouTube.
Butch Witkowski can be found on Facebook, UFORCOP Facebook page, J.A.A.R. Facebook page, UFORCOP Facebook Group page and UFORCOP website.
Strange and Beyond News Staff
Vance A. Nesbitt can be found Facebook page, Caravan of Lore Facebook page, Caravan of Lore Facebook Group page, website, YouTube, podcast, and Twitter.
Here is the links to the news stories that Vance reported on.
Story 1:
   Norway Humanoid
Story 2:
   Airline apple
Story 3:
   Stonehenge
Story 4:
   Asteroids brings water
Space.com
Story 5:
   New human DNA
Story 6:
   Child sacrifice
BBCNews.com
DISCLAIMER:
The views, opinions and topics of discussion expressed by hosts and/or guests in this episode of The Existence of Strange Things do not necessary represent the offical policy or position of Pirate Radio Studios Inc., Radio Memphis, The Existence of Strange Things, it's host, sponors, producers or anyone associated with this broadcast or podcast. Rebroadcast/podcast or any other use of this program without the expressed written consent of Pirate Radio Studios Inc., is strictly prohibited.
Any sponor offers/sales or announcements may not be valid depending on when this show is consumed.
Listener discretion is advised.
This show originally aired on May 4, 2018 at 11pm ET on Radio Memphis.