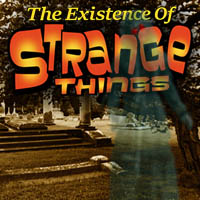 On this episode of The Existence of Strange Thingswe sit down with Deborah Hatswell and Andy McGrath.
Join us Friday, March 16, 2018 at 11pm ET as Sean, Lon and Butch sit down with Andy McGrath and Deborah Hatswell as they discuss all the "Strangeness" with the British Bigfoot sightings in the U.K. Also, other cryptids will be discussed.
Andy McGrath, is a Crypto 'Enthusiast' with over 25 years of research and obsession about the unknown creatures living right under our noses here on this tiny island in the North Atlantic.
From a wildlife point of view, the accepted fauna of The British Isles were discovered and catalogued in their finite and immoveable state in the 19th century. Nothing has really been added to this list or considered worthy since and the continual reports of Water Monsters, Bigfoot, Mystery Big Cats and UFC's (Unidentified Flying Cryptids) are largely ignored or used as newspaper fillers to entertain us.
Andy's focus is on current research and recent sightings, pictures, videos and eyewitness accounts of the many cryptids of the British Isles.
Although vast advancements in science and technology have brought great discoveries in other lesser known parts of the world, our island lies largely under explored and overlooked. At night, outside of the busy cities and next to the unlit lakes and lonely mountains it is an island in darkness, where nobody ventures into the woods anymore and the pervading paradigm scares all but the most fool hardy scientists away from any serious investigation of the many yet to be discovered - Beasts Of Britain
Author of Beasts of Britain http://amzn.eu/3vqXVa6 he is also currently working on his own documentary under the same name, as well as being involved in the international groundbreaking documentary 'Cryptozoologist' by Matt Ralston and Brad Abrahams; which features some of the world's most prolific cryptozoologists talking about their research and the reasons behind their passion for the unknown.
For more information on 'Beasts of Britain' go to: 
https://twitter.com/BeastsOfBritain
https://beastsofbritain.blogspot.co.uk/ 
#BeastsOfBritain Paperback: http://amzn.eu/ck40D2N and Kindle:http://amzn.eu/fcOgzjj :) :) :) 
Deborah is a writer and a witness that has collected around 500 accounts from all across the U.K. Creator of the British Bigfoot and Creatures map and a Bigfoot Researcher in the U.K.
www.britishbigfootsightings.com
Join us every Friday night at 11pm ET for a new show of The Existence of Strange Things on www.Radio-Memphis.com/Listen also available on chat at the time of the show.
We can be found on Facebook page, our Facebook Group page, Twitter, and email.
www.thexistenceofstrangethings.com
www.Livestream.com/RadioMemphis
Also, available on the FREE app TuneIn search Radio Memphis.
Sean "ForkChop" Forker can be found on Facebook, his Bigfoot Project Facebook page, his Bigfoot website, ForkChop website and Twitter.
Lon Strickler can be found on Facebook, Phantom and Monsters Facebook page, Phantom and Monsters Group page, Amazon, Phantom and Monsters website, Twitter and YouTube.
Butch Witkowski can be found on Facebook, UFORCOP Facebook page, J.A.A.R. Facebook page, UFORCOP Facebook Group page and UFORCOP website.
Strange and Beyond News Staff
Vance A. Nesbitt can be found Facebook page, Caravan of Lore Facebook page, Caravan of Lore Facebook Group page, website, YouTube, podcast, and Twitter.
DISCLAIMER:
The views, opinions and topics of discussion expressed by hosts and/or guests in this episode of The Existence of Strange Things do not necessary represent the offical policy or position of Pirate Radio Studios Inc., Radio Memphis, The Existence of Strange Things, it's host, sponors, producers or anyone associated with this broadcast or podcast. Rebroadcast/podcast or any other use of this program without the expressed written consent of Pirate Radio Studios Inc., is strictly prohibited.
Any sponor offers/sales or announcements may not be valid depending on when this show is consumed.
Listener discretion is advised.
This show originally aired on March 16, 2018 at 11pm ET on Radio Memphis.