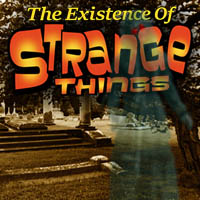 On this episode of The Existence of Strange Things we sit down with Scott Wolter. Scott discusses everything from the Kensington Rune Stone to the Templars. scott breaks down some of the early History in the United States of America. He will leave you with a different look om common day things.
Forensic geologist Scott Wolter is the host of History's H2 channel's hit show American Unearthed,™ which follows him on his quest to uncover the truth behind historic artifacts and sites found throughout North America. Scott is also the author of several books, including The Kensington Rune Stone: Compelling New Evidence and The Hooked X: Key to the Secret History of North America. Scott has been president of American Petrographic Services, Inc., since 1990 and has been the principle petrographer in more than 7,000 investigations throughout the world, including the evaluation of fire-damaged concrete at the Pentagon following the attacks of September 11, 2001.
Scott can be found on his blog, Twitter, Wikipedia,IMDb, Amazon,and website.
Join us every Friday night at 11pm ET for a new show of The Existence of Strange Things on www.Radio-Memphis.com/Listen also available on chat at the time of the show.
We can be found on Facebook page, our Facebook Group page, Twitter, and email.
www.thexistenceofstrangethings.com
www.Livestream.com/RadioMemphis
Also, available on the FREE app TuneIn search Radio Memphis.
Sean "ForkChop" Forker can be found on Facebook, his Bigfoot Project Facebook page, his Bigfoot website, ForkChop website and Twitter.
Lon Strickler can be found on Facebook, Phantom and Monsters Facebook page, Phantom and Monsters Group page, Amazon, Phantom and Monsters website, Twitter and YouTube.
Butch Witkowski can be found on Facebook, UFORCOP Facebook page, J.A.A.R. Facebook page, UFORCOP Facebook Group page and UFORCOP website.
Strange and Beyond News Staff
Vance A. Nesbitt can be found Facebook page, Caravan of Lore Facebook page, Caravan of Lore Facebook Group page, website, YouTube, podcast, and Twitter.
DISCLAIMER:
The views, opinions and topics of discussion expressed by hosts and/or guests in this episode of The Existence of Strange Things do not necessary represent the offical policy or position of Pirate Radio Studios Inc., Radio Memphis, The Existence of Strange Things, it's host, sponors, producers or anyone associated with this broadcast or podcast. Rebroadcast/podcast or any other use of this program without the expressed written consent of Pirate Radio Studios Inc., is strictly prohibited.
Any sponor offers/sales or announcements may not be valid depending on when this show is consumed.
Listener discretion is advised.
This show originally aired on February 23, 2018 at 11pm ET on Radio Memphis.