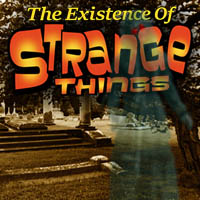 On this Episode of The Existence of Strange Things Sean, Lon and Butch sit down with Dweayne Pintoff and Gary Vasey.
First we speak with Dwayne Pintoff. Dwayne speaks about his Bigfoot experience in the Mount Saint Helens area. Along with that he talks about his research and investagating in the Pennsylvania. Dwayne aslo was in the movie by Small Town Monsters called "Invasion of Chestnut Ridge". Dwayne can be found on Facebook and his IMDb page.
Next, we speak with Gary Vasey. 
Sharing strange and scary stories and his expertise in all matters supernatural. He has also been featured in Chat – Its Fate magazine and been interviewed by Ghost Village and Novel Ideas, amongst others. He also contributes regularly to the Westerner magazine with his 'Paranormal Corner'
Whether you've heard one of G. Michael Vasey's radio appearances, or read one of his books over the shoulders of an avid reader on the bus, or whether you've simply got an interest in the paranormal and stumbled upon this page… You are going to pulled into the paranormal world of G. Michael Vasey, and you will be hooked.
You can discover much more about the supernatural at www.gmichaelvasey.com, read true scary stories at www.myhauntedlifetoo.com or tune in to his tweets at @gmvasey.
In many ways, I have been very fortunate meeting many wonderful people and visiting a great many beautiful and interesting places in my life to date. Some of my blog articles highlight these wonderful experiences…..
In the end, I am fascinated by what we are and why we are here. I am captivated by reality and what it might be. I am a firm believer in magic and the power of the mind to shape reality. That's what I write about, think about, and obsess about…..
Please do take a look at some of his books and reviews here.
Or explore articles about him and interviews with him here.
Feel free to drop him a line at gary @ garymvasey dot com of contact him at any of the following,
Find me on Facebook
I tweet at @gmvasey.
Find me on Soundcloud
Find me on Youtube
Find me on LinkedIn
Find me on Amazon.com
Find me on Goodreads
Find me on Round Fire Books
Being an addicted scribbler, I also blog at,
---
My Haunted Life Too – A Collection of your true scary stories of the paranormal
Strange Book Reviews – This is my book review site. I like strange books quite a lot!
CTRMCenter – This is my professional blog where I write about commodity trading and risk issues.
Join us every Friday night at 11pm ET for a new show of The Existence of Strange Things on www.Radio-Memphis.com/Listen also available on chat at the time of the show.
We can be found on Facebook page, our Facebook Group page, Twitter, and email.
www.thexistenceofstrangethings.com
www.Livestream.com/RadioMemphis
Also, available on the FREE app TuneIn search Radio Memphis.
Sean "ForkChop" Forker can be found on Facebook, his Bigfoot Project Facebook page, his Bigfoot website, ForkChop website and Twitter.
Lon Strickler can be found on Facebook, Phantom and Monsters Facebook page, Phantom and Monsters Group page, Amazon, Phantom and Monsters website, Twitter and YouTube.
Butch Witkowski can be found on Facebook, UFORCOP Facebook page, J.A.A.R. Facebook page, UFORCOP Facebook Group page and UFORCOP website.
Strange and Beyond News Staff
Vance A. Nesbitt can be found Facebook page, Caravan of Lore Facebook page, Caravan of Lore Facebook Group page, website, YouTube, podcast, and Twitter.
DISCLAIMER:
The views, opinions and topics of discussion expressed by hosts and/or guests in this episode of The Existence of Strange Things do not necessary represent the offical policy or position of Pirate Radio Studios Inc., Radio Memphis, The Existence of Strange Things, it's host, sponors, producers or anyone associated with this broadcast or podcast. Rebroadcast/podcast or any other use of this program without the expressed written consent of Pirate Radio Studios Inc., is strictly prohibited.
Any sponor offers/sales or announcements may not be valid depending on when this show is consumed.
Listener discretion is advised.
This show originally aired on April 27, 2018 at 11pm ET on Radio Memphis.